This post was updated on 7 May 2020
Find out everything you need to know about living in Notting Hill, as well as useful moving tips to ensure your move to the area runs as smoothly as possible.
Notting Hill became famous UK wide when the romantic comedy of the same name was released in 1999. But there is much more to the area than the setting for a film, it is known to be one of the most trendy parts of London with incredible eateries, bars, high-end boutiques and of course, Portobello Road Market.
The market sells everything you can think of: antiques, coats, fresh flowers – it really is a shopper's dream. The market spans a massive two miles and can take a few hours to enjoy fully, the perfect Sunday morning for many.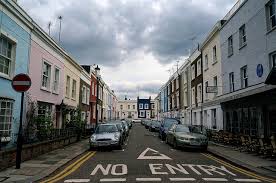 Just a wander through Notting Hill is wonderful on its own, with gorgeous cobblestone streets, picturesque Victorian townhouses and beautifully kept British gardens. It really is a lovely place to spend time in, and you're always likely to spot a celebrity or two there. Many a rich or famous resident lives in Notting Hill and all kinds of residents call the area home, from fashion-forward students and young families, to City workers and international businessmen.
All kinds of people move to Notting Hill for all kinds of reasons, and it remains one of the most popular areas of London.
If you are thinking of moving to Notting Hill, this guide will provide information about living in the area as a resident, so your move can be as stress-free as possible:
The History Of Notting Hill
Notting Hill has an incredibly varied history and at times a somewhat chequered past. There are historical records naming the area as early as the 13th Century but it was named Knottynghull.
In the 18th Century the area was developed into agricultural land and there were also developments making bricks. It became well known for these two things, especially as the soil was so perfect for making bricks because of its high clay content. Removing the clay left huge holes around the area, and lots of large kilns were created to make the bricks. There still remains one of these kilns to this day, which can be viewed on Walmer Road.
Unfortunately, making bricks and farming pigs didn't result in many riches for the workers and residents of the time. Many lived in poverty – the area was quickly developed and London was expanding at speed but lower-paid workers got left behind the progress and under-developed sanitation resulted in the large clay holes filling up with human and animal sewage.
It wasn't until the 19th Century that the area became a residential suburb which was designed to be attractive to rich Londoners. Beautiful terraced houses with multiple levels were created to house families along with their staff.
The area also attracted a lot of creative types and artists who featured the area in their work over the years.
During the war a lot of Notting Hill was damaged and afterwards, houses were rebuilt to be multiple occupancy properties with separate rooms and communal areas. Sadly, landlords at the time took advantage of this and many of these properties became slums. There was even a landlord who became infamous for being threatening and abusive to tenants.
Because of these slums and the notorious landlords, the area lost its appeal and became somewhere to avoid until lots of Afro-Caribbean residents came across to Britain during the 1940's. Many of the new residents were drawn to the area through cheap rents and entry-level jobs, but that led to a conflict with the already poverty stricken white residents of the area. During the 50's this tension led to race riots and fighting between the two communities.
However, local residents decided to create a carnival as a celebration of Afro-Caribbean culture in the UK as a way to improve relations between the two communities, which it did. Following the success of the first year, it continues to this day as an annual event and attracts over a million people each year.
Notting Hill finally came into its own for attracting the wealthy Londoners it had originally been created to attract. The multiple occupancy homes were changed back into single family houses, and the rich returned once again. Today, Notting Hill is one of the most expensive parts of London to live.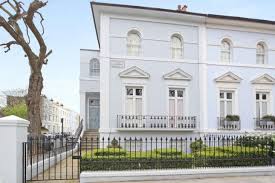 House Types/ Prices In Notting Hill
Notting Hill is a beautiful area with open communal garden squares and stunning townhouses. The garden squares in particular hold a steady high value of over £5 million at least, if you're lucky enough to find one for sale.
There are also lots of flats in the area as multiple level houses are bought up by landlords and converted for maximum return.
There are also new developments offering various price points for properties. Portobello Square, Leinster Square, Linden Gardens and Westbourne Park Villas are all recent developments offering various property types for potential residents.
If you are looking to rent, rental prices are still fairly reasonable ranging from £195 to £1100 pounds per week. Take a look at some of the smaller online letting agents who have local knowledge of the area for the best deals. Or, if you do want to buy, properties average out at around £1.1 million for a flat and £3.2 million for a house, although there are properties starting at around £400,000.
Jobs/ Economy In Notting Hill
Notting Hill sits in the borough of Kensington and Chelsea, which is one of the richest boroughs in London. Because it is so close to the City of London, head offices of large corporations, and up-and-coming smaller businesses are attracted to the area.
As a whole, it is a well-developed area, although there are still parts of it that offer opportunities for development.
Overall there are nearly 20,000 businesses in the borough of Kensington and Chelsea which benefit from being in that those highly esteemed postcodes which are internationally recognised. It enables businesses to attract a high standard of both employee and customer.
The most prominent industries and business types in the area are personal services, medical services, property, hospitality and retail. The tourist industry is also a big money maker.
Things To Do In Notting Hill
Notting Hill offers a lot of local fun and relaxation for residents looking to avoid public transport and the buzz of the rest of London. Shopping is one of the most amazing activities in Notting Hill because there are so many places to spend your money. The high-class boutiques in a cluster around Westbourne Grove are a great place for a wander and perhaps a treat or two. You can also enjoy a lovely lunch in this area in famous plant based eatery Farmacy, or Daylesford Organic Farmshop and Cafe.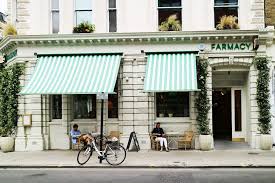 If you're more of a market lover then of course 2 mile long Portobello Road is going to be a haven for you, and it is different all the time so it never gets boring. It has fresh produce, candles, coats, shoes, specialist products, baked goods, jewellery and pretty much anything else you can think of. There are also nearby cafes and decor shops to enjoy a browse as well.
If you're more into green spaces and open space then you could enjoy the garden squares in Notting Hill, if your property allows you that privilege. Otherwise there are two magnificent parks nearby: Hyde Park and Holland Park. Both are wonderful places to run, cycle and generally spread out a bit and enjoy the space away from the hustle and bustle of the city spaces.
Culture lovers will love the fact that there are two cinemas and even a theatre in Notting Hill. They hold both standard and more individual and arty style performances and showings, and there is something for everyone over the year.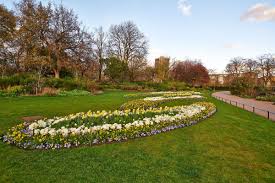 Schools/ Education In Notting Hill
Notting Hill has a number of private schools and there are also international schools for the increasing number of international students moving into the area.
The state primary schools are nearly all rated good or higher by Ofsted, and there are 4 outstanding state comprehensive schools.
As to be expected in an area like this, there is a lot of competition for places in schools and the different education options should be explored in depth before moving here with a young family.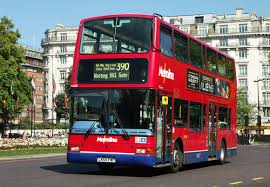 Transport In Notting Hill
Notting Hill has amazing transport options, which is why it is so popular with businesses and City workers. You can easily get to Heathrow airport and the main motorways out of London from Notting Hill. There are also great underground options with Notting Hill Gate and Holland Park tube stations within easy reach.
If you would rather catch the bus, there are various routes you can use to get around including the 7 to Oxford Circus and the 23 to Liverpool Street. If you're more interested in cycling or walking, there are some lovely routes around London via canal paths and Holland Park and Hyde Park.
Moving To Notting Hill – Our Top Tips
Moving to Notting Hill has some challenges that you wouldn't have in small town or even to other cities. That is because it is in London, and London has unique rules you have to be mindful of. However, with some planning and preparation, there is no reason your move can't be a success and also as stress-free as possible. These tips should help you get a head start in planning your smart move to the area:
Plan Well And Plan Early
If you are moving in summer you really need to plan well in advance of your move. All the best London self storage, removals companies and personal services will be booked up well in advance of the summer months so it pays to get things booked as soon as you can. It is also a good idea to make a packing plan, and start packing as early as possible so you don't end up rushing and have no time to declutter.
Choose Your Removals Company Carefully
All of the unique rules London has (especially around parking) will be within the experience of London removals companies. You should check they are confident in moving you to a Central London location like Notting Hill. You may want to consider a removals company from your local area who can move your items to London self storage first. You can then decorate and clean your house before using a van hire or local removals service to move your items across when you are ready. Then there is no 'all in a day' moving stress.
Whatever you do, choose the company carefully because they will be transporting your precious belongings, and they will have a big impact on how stressful (or not) moving day is for you.
Use Help
One mistake a lot of people make when they are moving house is to think they have to do everything alone. At the very least you should be asking friends and family to help you out in return for plenty of favours, tea and biscuits. If you have the budget you can also hire people to do pretty much anything you need doing. London is the place for personal services so if you want the garden landscaping or the house decorating before your arrival, if you want your car parking in a private garage, or your children with a nanny for the day, all of those services are available to you.
Moving To Notting Hill: The Perfect Choice For Anyone Looking To Live In A Beautiful, Lively Area
Your move to Notting Hill will be as stress-free as possible as long as you plan well in advance, and use any help available to you. With exceptional culture and aesthetics, gorgeous architecture, shopping to die for, and in such close proximity to Central London, moving to Notting Hill is simply a great idea.