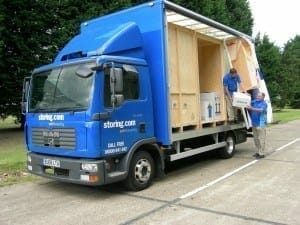 Storing.com is a successful family-owned business established following detailed research into how a self storage and managed storage business could offer its clients better services, better prices and a better deal than the large national self-storage chains. Our research was backed up by 20 years' experience running a large storage and distribution company working to the high demands of the supply chain.
It was no surprise that our research indicated that customers want a secure storage facility at a reasonable cost and without any unexpected price rises. But in addition to those basic requirements we also found that many people wanted the option to have their items collected and/or delivered to avoid the hassle and cost of hiring a van and moving their own possessions.
And so Storing.com was born in 1999 – offering secure self storage with always low, fixed prices and a free, or low-cost, collection and delivery service. Our business is quite simply built on providing secure self-storage without the hassle.
Our Values
As a family-owned company we have unique strengths because of our long experience in the storage industry and the type of values that only come from businesses with a focus on our good reputation and preserving our business for future generations.
We successfully balance professionalism with responsible business ownership to provide our customers with exceptional service at all levels.
You only have to look at some of the independent reviews that our customers leave. Time and again you will see words like:
Amazing service
Friendly staff
Better price than I could find anywhere else
The whole process was made very easy
Everyone was friendly, polite, cheerful and efficient
They managed to save money for me
They were very helpful
Great service
The whole experience was stress free
The service from beginning to end was wonderful
We are immensely proud of our business and immensely proud of our staff who always provide an expert, friendly service. Being a family-run business is one of the things that differentiates us from the large, national self-storage chains.
Our Services
Our storage facilities are easily accessible from London and we offer a daily collection and delivery service using our own trucks and fully trained 2-man teams, if required, from London and surrounding areas. Our secure, satellite-tracked vehicles transport your belongings from your home or office directly to our high security storage facilities for a hassle-free solution to your storage needs.
Our great customer feedback and high levels of repeat business show we've achieved our goal of giving customers much more than just a low-cost self-storage unit – we provide a complete, managed storage solution, with great value and great service all rolled into one. And our prices are fixed for 1 year to help you budget more easily for your storage needs.
We hope you will try our service and discover for yourself the Storing.com difference – why not give us a call on 08000 641 642 to find out more about the hassle-free alternative to self-storage. We'd be very happy to talk to you about your storage requirements.