Holland Park is an incredibly chic and trendy neighbourhood in London where people move  who feel even uber-cool Notting Hill is just a touch too touristy.
The area is named Holland Park after the building Holland House which was bombed during the war and going for a walk around you can see the historical heritage of this part of London. There are grander than grand mansions, impressive pieces of architecture encasing independent shops and boutiques, along with a wonderfully friendly and relaxed feel. It isn't difficult to spot a celebrity or two on a standard stroll in the area, and generally, the local community tend to leave them to their business.
With gorgeous houses, open spaces, a sense of community and incredible connections to the rest of London, not to mention exceptional schools, Holland Park is a fantastic place to live.
If you're looking to move to Holland Park, you've made a great choice of location to base yourself and your family. To help ensure your move is as stress-free and informed as possible, we have created a useful guide packed with lots of interesting information about Holland Park. By the end of the guide, you'll be a little more ready to make the move to this desirable part of London.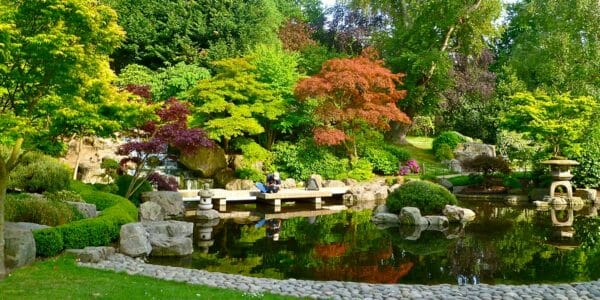 The History Of Holland Park
Holland Park Avenue began as a Roman path which meandered through a forest. That forest would eventually be developed into London, and during medieval times, the path began to be neglected and was a well-known spot for robbers and other criminals. They would hide on the route waiting for wealthy families travelling through and then threaten them with violence, demanding jewellery and gold in exchange for their safety. Some attacks would be more brutal, of course, and so the route was thought to be very dangerous for a long time before the area was developed.
The start of the development of the area came from the forest being used as agricultural space. The area changed further when Holland House was built in 1605 along with a huge 500 acre estate around it. As developers and landowners moved in to the area those acres were sold off and residential developments were built on them. Slowly but surely the area grew and grew into the much sought after part of London it is today.
Sadly, the house where it all began, Holland House, was near enough destroyed during the war but you can still see parts of its ruins in Holland Park today.
House Types/ Prices In Holland Park
Holland Park is a much sought after area and with that kind of popularity comes a substantial price tag. Properties in this location though do range widely in style and in price. So there are lots of options for you if you are looking to move to Holland Park. A browse at what's on offer at local estate agents Carter Jonas will give you an idea of what's available and at what price.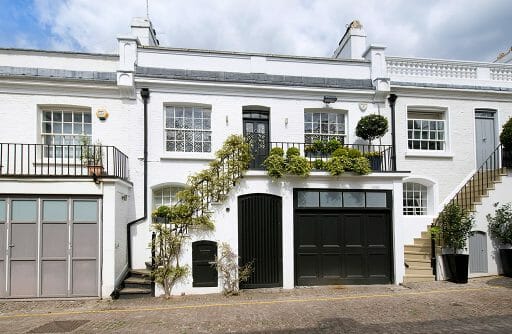 There are incredibly beautiful, and huge, mansions with features like swimming pools, home gyms and saunas. There are also gorgeous, old townhouses which are often converted into separate flats. Renting is a good option if you can't find a property to buy (you often have to wait a while for properties to come on the market) and you can rent a small property such as a studio apartment for around £1,500 per month, or something much more substantial for around £12,500 per month.
If you are looking to buy, the average price of a flat is around £1.5 million, and a house is around £2 million. House prices can of course travel upwards and upwards depending on exactly how grand you want to go.
You are of course paying for the area, but there's no doubt Holland Park ticks all the "location" boxes, whatever your budget.
The area does have a real village feel to it, and a true sense of community but it certainly has its unique quirks too. One of the butchers has regular famous visitors, including Richard Branson. Regular grocery sellers also sell expensive truffles  not something you'd typically find in a London grocers. Newsagents sell international newspapers to accommodate the international residents in the area, thought to make up over 50% of all residents. And sone locals walk around wearing real fur coats.
But that eclectic feel is exactly what makes the area what it is, and whether you live in a small flat or a large mansion, if you live in Holland Park you get to sample its unique style every single day.
Jobs/ Economy In Holland Park
Holland Park sits in the borough of Kensington and Chelsea which is one of the most expensive boroughs in the whole of the UK. The houses in the area are some of the most expensive houses in the UK and house values often make newspaper headlines.
The fact that it sits within easy distance of Central London and The City, means that professionals and City execs are drawn to the area. There are also plenty of transport options to connect you to different areas of the country, so commuting is exceptionally easy from Holland Park.
Locally, there are small business opportunities in the most popular sectors of medicine, personal services, retail, business services, property and hospitality. Visitors provide a wealth of opportunity because they want to come and spend money. Events like the Chelsea Flower Show, the Notting Hill Carnival and various local events held throughout the year provide plenty of opportunity for jobs.
The Notting Hill Carnival in particular is thought to bring money to the area, and supports jobs and enterprises whilst it is on and at other times of the year.
Things To Do In Holland Park
Holland Park provides easy access to everything that London has to offer. High-end shopping, incredible sightseeing, foodie tours, amazing nightlife, beautiful outdoors spaces – what doesn't London offer?
However, it is perfectly reasonable to want to stay local to the area you live sometimes, and to live somewhere that has plenty to offer, especially if you have a family. And there is plenty on offer in Holland Park, including many of these well-known places and activities: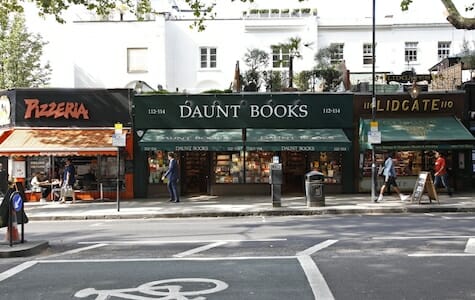 Shopping
The beauty of Holland Park is that the area is so wealthy that independent shops have thrived. Residents prefer to avoid supermarkets and instead shop at independent stores that offer the best of the best in groceries and speciality products. Clarendon Cross is the spot where you will find all of your luxury goods, unique to the area. You can find rare truffles and cheeses, exotic fruits and vegetables, beauty products and only the most fresh and beautiful flowers. Daunt Books, Lidgate Butchers for organic meat and homemade pies, Jeroboams for wine and cheese are just a few well known sellers in the area.
Pubs & Bars
There are many lovely pubs and bars in Holland Park, each with their own micro-community and feel, and extensive range of refreshing offerings. Holland Park Avenue tends to hold the most pubs and bars but there are other places to enjoy a beverage dotted throughout the area. Julie's Restaurant & Champagne Bar is well known in the area, providing tasty food and of course, high-quality champagne. For even more opulence, The Belvedere offers exceptional food and drink for special occasions. The Ladbroke Arms and The Castle are ideal for outdoor socialising.
Outdoor Areas
Many, many years ago, Holland Park held all kinds of exotic birds from the estate of Holland House. These days, you don't have to compete with a peacock or an emu for a spot on the grass and you can find all kinds of wonderful areas in Holland Park. Japanese inspired gardens, art, tennis courts and landscaped gardens, as well as wooded areas, all make up the beautiful Holland Park.
Transport In Holland Park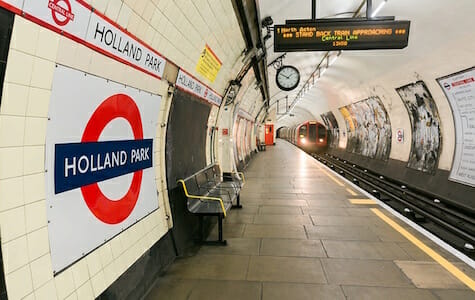 Holland Park has excellent connections to the local area via public transport. It sits on the Central line and you can easily reach other central parts of London in less than 15 minutes. There are also buses to connect you to the rest of London. The 31 takes you to Camden, the 148 takes you to White City, The 94 takes you to Piccadilly Circus. There are also night buses that serve the area.
If you do have a car, you'll be able to use the A4 and M4 for a quick route out of London towards Heathrow and the Berkshire countryside beyond. You can also easily connect to all major routes leading to the rest of the country.
If you are more eco-conscious, then you can walk or cycle from Holland Park. Cycling in particular is a lovely way to travel around the area and you can cycle all the way from Kensington Gardens and Hyde Park in just 30 minutes to get to Oxford Circus.
Schools/ Education In Holland Park
Holland Park is known to hold the educational premises that taught many members of the Royal Family and so, the schools in the area are internationally renowned. Fox Primary and St Clement and St James are popular primary options, and there are even special international schools for international locals, including the Southbank International School.
Of course, with the close access to the rest of London, schools throughout the capital are within easy reach.
Moving To Holland Park: Top Tips
Moving to Holland Park is likely to be different to a standard move because you're moving into a city centre location which has its own special rules regarding parking and congestion charges. However, with good planning and with the right information, you will be able to enjoy as stress free a move as possible. These 3 tips will help your move to Holland Park run as smoothly as possible:
Declutter First
If you are moving to Holland Park you are paying a premium for every single square foot of space. Any clutter you have will be using up precious space that could otherwise be used for living space or storage space for items you love and use on a regular basis. Before you pack, or as you pack, have a serious decluttering session getting rid of things you don't want, need or use. If there are items you need to or want to keep but you don't need them in your home, consider some self storage in London as a cost-effective way to add a separate 'extra room' to your expensive London home.
Sort Everything Out Early
All the best companies that will help you with your move will be booked well in advance. This is particularly true if you are moving in summer, and if you are hiring from companies in Holland Park because the best companies will be much sought after. Childcare, pet care, drivers, removals companies and any other kinds of help and personal services need to be sourced and booked well in advance.
Research Your Removals Company Well
Your removals company needs to be well acquainted with London and the way it works. Parking charges, restrictions on parking, tolls and where everything is – they need to know it all. A removals company without experience of moving people in and out of London may end up causing you to pay extra charges, or delaying the move. If you want to split services, you could hire a local removals company to deliver items to your self storage unit in London, and then use a company local to Holland Park to move your items into your Holland Park home.
Move To Holland Park To Enjoy A Unique Village Feel, All Within 15 Minutes Of Central London
Moving to Holland Park requires a lot of forethought, planning and information to ensure it is as stress-free and successful as it can be. Once you have everything in place, and you have your moving date, you're sure to live a happy life in this exceptional part of the country. With close proximity to Central London, plenty of open green spaces, and a wonderful friendly community, along with the most amazing unique boutiques and shops, Holland Park makes for a wonderful home for young professionals, families and business men and women alike.